YAMAHA PM4000 52CH + flightcase + Dos fuentes alimentacion
Expiración: 08/10/2018 | Visto 390 veces
Este anuncio ha expirado.
Otros anuncios que te pueden interesar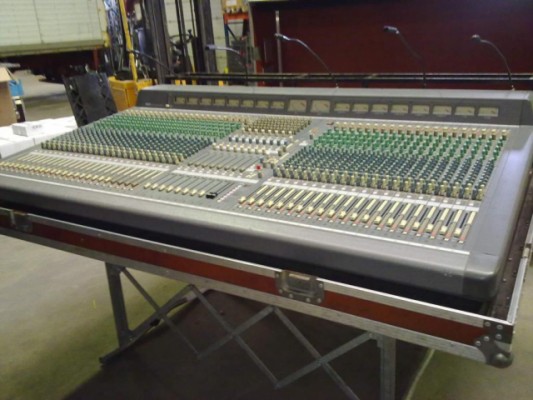 Todo incluido, mesa, flightcase y dos fuentes de alimentación.




Features

Features

Electronically balanced XLR inputs and outputs.

Equipped

With dual headphone and dual CUE output connectors.

It has multiple exhaust fans on the rear panel.

The consoles may be linked to expand system capability.

Lots of Inputs and Busses

There are eight VCA (Voltage Controlled Amplifier) Master Faders which can be assigned to control any combination of input channels. In addition, there are 18 group mixing busses as well as two pair of stereo mixing busses, to which any of the input channels can be assigned. Each input channel may be assigned directly to any of the 18 group busses or two stereo busses. The stereo bus sends on each channel, may be switched individually to function as dual mono sends, for a total of 22 discrete audio mixing busses.

Flexible Bus Assignment

The master output section is arranged with 9 pair of Group Master faders. Each group mix has its own Group output. Each group can be assigned to either (or both) of the stereo masters. Input channel signals may be assigned directly to the stereo busses, or assignment can be made via any of the 18 Group Masters.

Versatile Input Gain Structure

Inputs are differentially balanced, and are equipped with a 30 dB attenuation PAD plus a continuously variable 50dB range GAIN trim control. Optional input transformers may be installed.

Meters for Every Channel and Bus

It is equipped with 22 illuminated VU meters.

VCA Groups for "Scene" Control

It is equipped with a VCA grouping system which is separate from the audio grouping. Eight "VCA Group" switches next to each channel fader enable that channel to be assigned so it is controlled by one or more of the VCA Master Faders.

Master and VCA Mute Functions

The Master Mute function facilitates scene changes and complex cues. Each input channel has eight Mute assign switches. These permit the channel's on/off function to be remotely controlled by the eight Master Mute switches.

Comprehensive Cueing With Switchable Modes

There is a Cue switch on every input channel and on the aux returns, and a Cue switch on every auxiliary send, the group outputs, the matrix outputs and the stereo master output. The Cue system has input priority. A Last Cue mode permits the operator to have the most recently selected bus cue cancel the bus cue that had been selected previously.

Talkback and Tone for Slating or Test

Talkback can be slated to any of the 18 group mixing busses, the two stereo mixing busses, and to a rear panel XLR TB output. The oscillator can be slated to the same busses as the talkback, and also has it own rear panel output connector.
Contactar ahora
Para poder contactar con el anunciante necesitas estar identificado. Identifícate o regístrate para enviarle un mensaje.
Validación de móvil en Mercasonic
Los usuarios que validan su móvil con nosotros reciben un SMS gratuito con un código privado, que introducen luego en Mercasonic. Eso nos permite relacionar al titular de la línea con la cuenta de usuario, lo que puede resultar de mucha utilidad en caso de irregularidades o de una investigación policial.
La validación no ofrece garantía plena sobre la identidad del usuario ni sobre la confianza que pueda merecer. Simplemente aporta un elemento de juicio adicional sobre su fiabilidad, que debes cotejar con el resto de datos disponibles (antigüedad, actividad, seguidores, etc).
Importante: el número de móvil sólo se almacena para recuperarlo en caso de irregularidades. No se muestra públicamente, ni se utiliza con fines publicitarios ni de ningun otro tipo, ni se cede a terceros.
Anunciante profesional
Este anuncio ha sido publicado por un profesional de la compraventa. Si tú también eres profesional, contacta con nosotros para empezar a vender material usado, ex-demo y outlet en Mercasonic.
Tus anuncios aparecerán diferenciados con una marca en rojo y podrán filtrarse aparte.