CONVERTIDOR BLACK LION AUDIO SPARROW DAC WHITE
Por
anzwer
el 06/06/2018 en
Barcelona
Expiración: 05/08/2018 | Visto 88 veces
Este anuncio ha expirado.
Otros anuncios que te pueden interesar: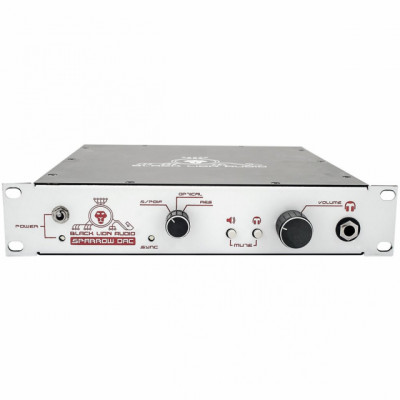 En perfecto estado.

Con cable alimentacion VOVOX.

NO CAMBIOS

Envio cargo comprador.

Preferible entrega en mano. (Vilafranca del Penedès)

Contactar por privado o telefono 656 54 23 80 Adolf.
Gracias.



Premium-Grade Conversion

The Black Lion Audio White Sparrow DAC the ideal companion for any studio-engineer, delivering immense audio quality and performance. The White Sparrow DAW provides the perfect balance between high-quality conversion and affordability. The Sparrow DAC includes advanced clocking architecture as well as a 128dB unweighted 20Hz-20kHz dynamic range up to 600 ohms. This high dynamic range provides unparalleled clarity, capturing every nuance of your source audio. The White Sparrow DAC is based round the 32-bit capable ESS9018 chip for optimal audio performance ensuring exceptional detail and musical conversion.
Versatile Connectivity

In addition to the wide range of premium-quality components, the White Sparrow DAC also includes a diverse range of connectivity. The White Sparrow DAC includes user selectable AES, coax SPDIF and optical SPDIF inputs for connecting to a range of digital and analog devices. The output connections include both balanced XLR and RCA, as well as a high current headphone output for private listening. With its wide range of connectivity and immense audio fidelity, the White Sparrow DAW is ideal for a range of mastering and mixing applications.
Robust Design

The highly robust, all-metal chassis features retro-o-style potentiometer controls for both the headphones level as well as optical selection. The front-panel of the DAC includes a headphone output,along with two mute buttons for independent control of both line or headphones signals. The robust design of the DAC is also rack-mountable. With its perfect balance of a high dynamic range and versatile connectivity, the White Sparrow DAC is ideal for any studio professional.
Features

Premium-grade DAC converter
Wide dynamic range (20Hz-20Khz)
128dB unweighted
XLR and RCA outputs
High current headphone output
Two mute buttons for line or headphones signals
Highly robust all-metal chassis
User selectable inputs

Specifications

THD+N: 0.0005 (20kHz BW, 20-20kHz, @-10dBFS)
IMD: < 0.0015 SMPTE (1:1) 60Hz + 2k 20kHz typical Crosstalk: < 100dB (@20kHz all gain settings
Frequency Response: (@ 192kHz Sample Rate) +/-.5dBu 10Hz 80kHz
Size: 10.25" x 8" x 1.75"
Weight: 5lbs
Shipping Weight: 6.5lbs
Power Consumption: 14W
Recommended operating temperature: 0 40°C
Storage Temperature: -25 50°C
Output Impedance: < 10 Ohms DNR: 128dB unweighted, 20-20kHz bandwidth
Contactar ahora
Para poder contactar con el anunciante necesitas estar identificado. Identifícate o regístrate para enviarle un mensaje.
Validación de móvil en Mercasonic
Los usuarios que validan su móvil con nosotros reciben un SMS gratuito con un código privado, que introducen luego en Mercasonic. Eso nos permite relacionar al titular de la línea con la cuenta de usuario, lo que puede resultar de mucha utilidad en caso de irregularidades o de una investigación policial.
La validación no ofrece garantía plena sobre la identidad del usuario ni sobre la confianza que pueda merecer. Simplemente aporta un elemento de juicio adicional sobre su fiabilidad, que debes cotejar con el resto de datos disponibles (antigüedad, actividad, seguidores, etc).
Importante: el número de móvil sólo se almacena para recuperarlo en caso de irregularidades. No se muestra públicamente, ni se utiliza con fines publicitarios ni de ningun otro tipo, ni se cede a terceros.
Anunciante profesional
Este anuncio ha sido publicado por un profesional de la compraventa. Si tú también eres profesional, contacta con nosotros para empezar a vender material usado, ex-demo y outlet en Mercasonic.
Tus anuncios aparecerán diferenciados con una marca en rojo y podrán filtrarse aparte.