Photosounder SplineEQ - Ecualizador Paramétrico de Fase Lineal (transferible)
Expira el 01/12/2017 | Visto 411 veces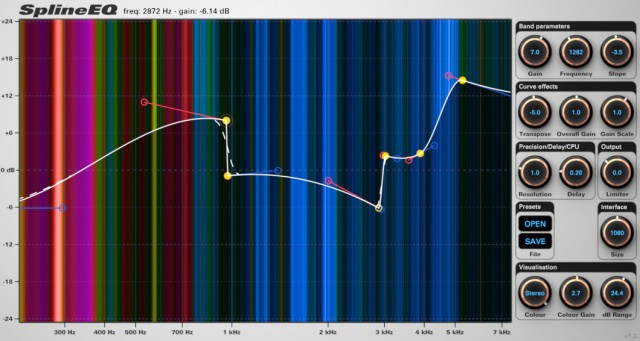 Hola! CAMBIO o VENDO
Marcas de software que me interesan
(pregúntame)
- U-he
- Voxengo
- Plugin-Alliance
- Fabfilter
- Izotope
- Soundtoys
- Melda
- D16
- Blue Cat Audio
- Nomad Factory
- Xils-Lab
- Rob Papen
- Cableguys
- Reveal-Sound
- URS
- Klanghelm
- Sonic Charge
- 2CAudio
- Zplane
- Zynaptiq
- Pregúntame otra marca
Software que NO VENDO pero SÍ CAMBIO por otro de arriba
(pregúntame)
- Wave Alchemy Bass Pedals (Moog Taurus I para Kontakt)
- Wave Alchemy Pro II (SCI Pro-One para Kontakt)
- Cakewalk Z3ta+2 (sintetizador VA y wave-shaping)
Todas mis ventas
(pregúntame)
https://www.hispasonic.com/usuarios/mac_a/anuncios
Photosounder SplineEQ
Ecualizador paramétrico de fase lineal
FEATURES
Linear phase equalizer. Offers a better sound quality than the more common minimum phase equalizers by not affecting the phase of sound, only the intensity of frequencies, which makes it easier to achieve good sounding results. Also has the advantage of not incurring aliasing artifacts.
Spline-based filter design. Filters are simply created by designing a spline curve which can be made to adopt any imaginable shape. No filter types to choose from, all points simply define part of the shape of the filter's spline curve. The actual filter's frequency profile is displayed as a dashed curve when it differs from the ideal spline curve (this can be changed by changing the filter's resolution).
Up to 60 bands (only up to 4 in the free version of SplineEQ) or as low as 1. You can create or disable bands by double clicking on the visualisation area of the interface and adjust them either in that area or using the knobs or even the automatable parameter sliders in the host's interface.
Simple curve modification functions. You can modify the curve as a whole using the transpose function to shift the curve up and down by up to 10 octaves, affect the overall gain to shift all gain settings up or down evenly or even change the gain scale to apply a ratio to all gains, thus enabling you to either flatten, exaggerate or reverse the shape of a curve.
Frequency analyser. More intuitive than your usual logarithmic curve frequency display, this frequency analyser shows you the intensity of frequencies before and after the filtering with colours. It's also fine tuned so that intensities at different frequencies are represented in a way that matches closely to our perception. It moves in a fluid manner in sync with the source sound and has a frequency resolution of about 10 Hz.
Smooth and fluid graphics. The whole interface responds fluidly to change, even the frequency visualisation has a great frame rate and all the graphics are perfectly anti-aliased.
-Infinite dB to +60 dB gain range. This allows you to completely silence entire ranges of the spectrum or to really bring back some fainter harmonics by boosting their amplitude thousandfold. Gains are represented logarithmically between -60 dB and +60 dB and linearly below -60 dB. Given the uniquely immense gain range there's also a built-in limiter whose knob lights up when over the adjustable threshold. You can also zoom in to as low as ±3 dB.
Smooth transitions. Changing parameters, either by adjusting the knobs, the graph or by parameter automation is always done smoothly and creates no audio artifacts.
Adjustable resolution, latency and CPU usage. The resolution of the filter can be lowered or increased (up to roughly 22 Hz) and the processing latency can be changed to obtain a lower CPU usage or a lower latency.
Good performance. Linear phase equalizers always require more power than other types of equalizers. However SplineEQ is as fast or faster than other linear phase equlizers, often with less latency.
Presets are available here and can be saved or open (not with the free version of SplineEQ). Their format is compatible across all platforms and hosts and can be edited with a text editor.
Also supports all sampling rates (384 kHz included), is available on both Windows and Mac, in VST (2.4) and AU format, in 32 and 64 bits. All input, output and processing are done in 64-bit floating point format and in stereo.
http://photosounder.com/splineeq/
Reviews
http://www.musicradar.com/reviews/tech/photosounder-splineeq-551181
https://www.kvraudio.com/product/splineeq-by-photosounder/reviews
https://www.gearslutz.com/board/product-alerts-older-than-2-months/678151-new-linear-phase-eq-splineeq.html
http://reviewrevival.weebly.com/reviews/splineeq-review-definitive-mastering-grade-audio-scalpel
videos
Total fiabilidad
Mas económico
Licencia liberada a través de su soporte oficial
Formato descarga (o a través de pendrive si su soporte oficial me autoriza)
Actualizable
Cualquier duda y posibles interesados/as, contactar solo por
privados
, por favor.
Un saludo!
Contactar ahora
Para poder contactar con el anunciante necesitas estar identificado. Identifícate o regístrate para enviarle un mensaje.
Usuario


Este usuario ha validado su móvil
?
Validación de móvil en Mercasonic
Los usuarios que validan su móvil con nosotros reciben un SMS gratuito con un código privado, que introducen luego en Mercasonic. Eso nos permite relacionar al titular de la línea con la cuenta de usuario, lo que puede resultar de mucha utilidad en caso de irregularidades o de una investigación policial.
La validación no ofrece garantía plena sobre la identidad del usuario ni sobre la confianza que pueda merecer. Simplemente aporta un elemento de juicio adicional sobre su fiabilidad, que debes cotejar con el resto de datos disponibles (antigüedad, actividad, seguidores, etc).
Importante: el número de móvil sólo se almacena para recuperarlo en caso de irregularidades. No se muestra públicamente, ni se utiliza con fines publicitarios ni de ningun otro tipo, ni se cede a terceros.
Anunciante profesional
Este anuncio ha sido publicado por un profesional de la compraventa. Si tú también eres profesional, contacta con nosotros para empezar a vender material usado, ex-demo y outlet en Mercasonic.
Tus anuncios aparecerán diferenciados con una marca en rojo y podrán filtrarse aparte.